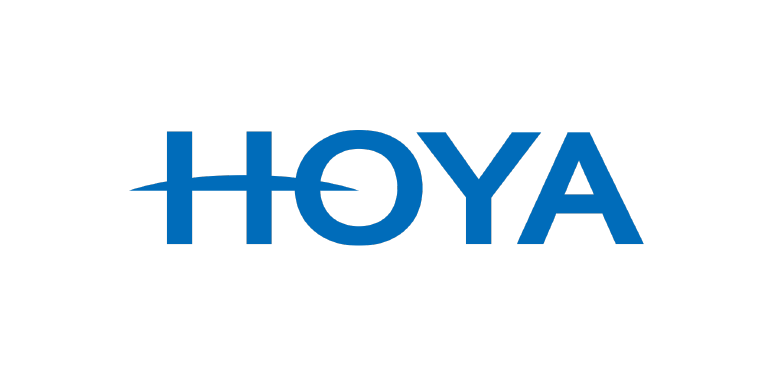 IR operations experiencing rapid workload reductions with the application of the Interview Schedule Calendar
HOYA Co., Ltd.
Mr. Takahisa Yamoto
Ms. Kaoru Hidano
In 1941, HOYA Co., Ltd. was established as an optical lens manufacturer and has diversified into eyeglasses and contact lenses, medical endoscopes, cataract intraocular lenses as well as precision machines and devices to support the semiconductor industries and digital equipment industries based on advanced technology of two business areas of Life Care and Information/Communications.
As the company continues to grow day by day, the IR representative, which consists of a few members only, had a task to make their operation more effective. We then asked about the process and the specific changes after the application of Minsetsu called Minna no Setsumeikai (Minsetsu).
Could you share with us the operation issues so far?
Only two people were engaged in IR activities, and we were extremely busy. We especially had a difficult time adjusting appointments. During the preparation of the announcement of financial results, so many appointments were made that it was difficult to coordinate schedules.
Especially I cannot forget the time I forgot to make a phone appointment with an overseas investor. Although it did not cause any serious problems at that time, it could have damaged the relationship of trust with the investors who took time out of their precious time to meet with us. This made us realize the need to improve our operations.
Please tell me how did you come across Minsetsu?
Minsetsu contacted us and offered us to try a free trial first. Since it was free, we thought we would give it a try. That was how it started with Minsetsu.
We have always felt strongly that we needed to improve the efficiency of schedule coordination and eliminate errors, so we had high expectations that Minsetsu might help us improve our situation. As soon as we applied Minsetsu *1, we realized that schedule management had become easier and more effective.
Shortly thereafter, a double booking occurred, so we decided to apply the Interview Schedule Calendar*2. Previously, it was not clear how many arrangements had been completed and their progress, but with Minsetsu, we can easily check the progress. It is very helpful for us to visually check the information in an organized manner.
*1 Minsetsu: a free service for the companies' IR to post a financial results briefing, make arrangements with securities companies/institutional investors, and make meeting minutes.
*2 Interview Schedule Calendar: Minsetsu System that allows you to create the interview schedule with the company's institutional investors, sharing the URL with securities companies/institutional investors to make the interview arrangements easy.
Could you share with us how you are utilizing the application?
We have two ways to utilize this service. One is to coordinate appointments with investors (daily scheduling), which is what made us decide to implement the system. The other way we utilize the system is to provide information on financial results briefings. Recently, we have been holding quarterly earnings presentations online using Zoom, and in most cases, we use the Briefing Calenda to create pre-registrations.
Furthermore, investors who attended the financial results briefing have requested individual meetings, so it kills two birds with one stone. While we have not been able to accurately calculate the number of incoming sources from the attendance rate at financial results briefings, we believe that many of the appointments are made through Minsetsu, since the attendance rate has increased since the information was posted on Minsetsu.
Do you have any ways of your own in using Minsetsu's services?
In the beginning, registration for the financial results presentation was done through both Zoom Webinar pre-registration and Minsetsu. But after talking with a Minsetsu staff member, we changed the system so that we would not have to make double reservations any more. Whenever we make a request for Minsetsu to improve, they enthusiastically take our requests and speedily improve the system, so it is getting better and better.
In addition, Interview Schedule Calendar reservations had previously been made only in person or by phone. Recently, Minsetsu has added web conferencing, which has a high usage rate, as an option to broaden the range of meetings and to more effectively inform the public of meeting URLs, IDs, and passwords.
Right now, Minsetsu coverage accounts for more than half of the total. Recently, more and more securities companies and institutional investors are also using the Minsetsu system. Therefore, we use the Minsetsu system differently for different clients, and for those who are not able to use Minsetsu, we contact them individually and send them our schedule. If a client does not have a Minsetsu account, we will ask about the status of their Minsetsu implementation about once every three months.
Just checking the availability in Minsetsu (Interview Schedule Calendar) can make the operation so much smoother, so I highly recommend implementing it.
Could you share with us what issues have you resolved since applying the system?
The biggest benefit has been the reduction in e-mail exchanges and the visualization of progress in making daily appointments. We have significantly reduced the amount of time we used to spend on scheduling. We also received fewer inquiries about the date and time of financial results briefings, which reduced our overall workload.
Previously, some securities companies told us that they could not set up interviews through Minsetsu. Now, we are able to make appointments through Minsetsu with securities companies. More importantly, we are able to coordinate schedules more smoothly than before, which helps to ease the burden on our clients.
Lastly, could you share with us your expectations for Minsetsu?
We are fully satisfied with informing and arranging the financial results briefing but, it would be great to know the way to apply Minsetsu from our investors' view point. We want to learn the best method to explain to our investors about it, so it would help us to make an impression on our investors when we share the information about it.

Minsetsu also organizes IR-specific English-language seminars and other events that we think would be great to have. We would be happy if Minsetsu could also share with us content that is necessary for IR in the future. ESG-related issues are trending these days, so if such information on ESG could be shared, it would be a good learning experience and useful for our business.
Contact
For questions concerning Interview Schedule Calendar, please contact us by filling the form below.